Moisture in Solid Recovered Fuel (SRF)
Solid Recovered Fuel (SRF) is created from recuperated waste. It is a high-yield source of energy that produces heat and electricity, along with being a waste disposal alternative. Consisting of dried, non-hazardous waste which can be redeemed with incineration on local sites (household waste incinerators) or on high capacity industrial plants.
Consistent on-line moisture control permits waste-to-energy plants to uncover considerable cost savings in energy and transportation from excess water. Manufacturing plants furthermore reduce the amount of use on equipment, which decreasing their lifespan, from the dust and ash build up and avoids obstructions on the conveyor that can also lead to boiler shut downs.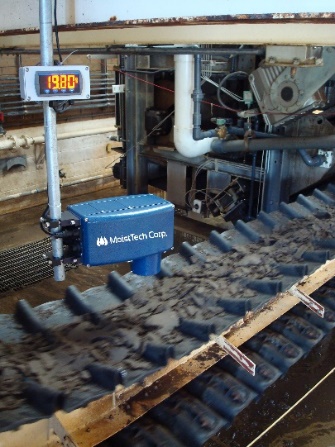 SRF preparation is typically accomplished directly on waste sorting and recovery sites, representing complementary activity that also creates jobs.
The SRF preparation lines are deployed to treat the waste in a 5-step process: crushing, drying, sorting, second crushing, pelletizing.
Typical accuracy is about ±0.2% for ash moisture applications with a moisture range of 0-30% moisture. We reccomend installing the sensor 4-8" (inches) above the conveyor belt. Operators then have the ability to continuously monitor the process and control the moisture content manually or automatically. For the best monitoring and control, the sensor(s) can be directly connected to the users PLC or any laptop. 
Competing instruments do not ability to monitor the product with small gaps in product circulation as well as remain unaffected by the ambient light impacting accuracy. MoistTech's IR3000 is suited for installations on chain conveyors and screw conveyors. 
Contact Us Today to Assess Your Application: