The CCS-3000 chemical and mineral moisture analyzer is MoistTech's NIR (Near Infrared) online moisture management for instant, non-contact measurement for coke, coal & sinter materials. Precision filters and algorithms have been incorporated to optimize performance under the demanding conditions in coke, coal and sinter processing. 
The CCS-3000 mineral and chemical analyzer is renowned for its rugged design and ability to withstand the toughest manufacturing environments in the industry. Insensitive to material variations such as particle size, material height and color, the CCS-3000 analyzer provides continuous, reliable readings. It requires only a one-time calibration, is maintenance free and the drift free optical design allows operating personnel to confidently make immediate process adjustments based on real-time measurements.
Producing thousands of measurements per second, MoistTech's CCS-3000 moisture management technology provides users the ability to enhance their on-line process to dramatically improve product quality. Proper moisture control produces energy savings, and plant efficiency with less material loss.
The CCS-3000 utilizes cutting edge elements that enable installation in some of the most extreme locations. MoistTech also has product loss software capability to ignore small gaps, inert material, foreign objects, and belt or screw conveyors are removed from the measurement calculation to provide one of the most precise moisture analysis.
CCS-3000 Moisture Sensor Installation Locations
The CCS-3000 mineral and chemical moisture analyzer has many areas of applications:
belt conveyor
screw and drag conveyors
down chutes and storage bins.
At-line: The addition of the base and stand option provides instant off-line or at-line measurement under on-line operating conditions.
Power: AC 110-220V

Moisture Range 0-95%

Accuracy +/- 0.1% to 0.01%

Repeatability +/- 0.1% of measured value

Dimensions 31cm x 18cm x16cm

Weight 7 Kilograms (15.5 lbs.)

Output (3) x 4-20mA
CCS-3000 Moisture Sensor Applications
MoistTech's global reputation manufacturing NIR (near infrared) sensors in moisture control provides the standard in moisture detection equipment. The CCS-3000 series is specifically designed to be used on dark materials – NIR light is absorbed more intensely by dark materials and therefore has a different filter of detection for the most accurate of moisture levels in: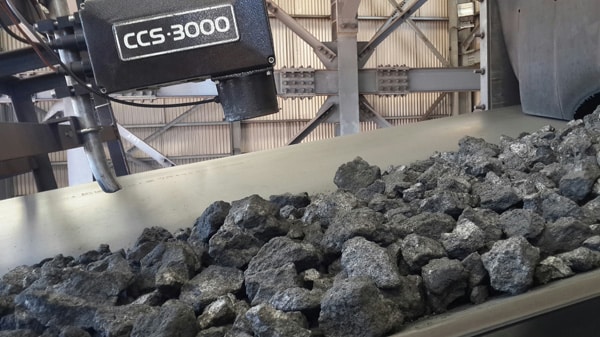 The
Advantages of MoistTech Sensors
Product loss software capability
Large intense quartz halogen light source
Optical system that is several times more efficient than competitors
High speed motor – 100s more measurements per second
No product height effect 4 to 14 inches from material
Zero ambient or other light effect
No effect from dust, temperature or humidity
Display in % wet or % dry weight
The
Key Benefits for Users
Easiest installation & calibration
Surface mount electronics
Product Quality Monitoring
Allows immediate production line adjustments to improve product quality and consistency
Process Optimization
Allows 100% monitoring of your production process to reduce product that is "out of specification"
Fuel Consumption Savings
Reduce your energy usage as the drying/cooking process can be controlled resulting in a reduction in energy consumption
Water Savings
Reduce your water usage by continuously monitoring moisture content
Dust Prevention
Help reduce the risk of explosions due to dust
To get started or talk with our team, please contact us today.