MoistTech Moisture Sensor Applications
MoistTech Moisture Sensor Applications
With over 40 years in the moisture management industry, MoistTech analyzers can be found in thousands of applications all over the world. They save manufacturers a large amount of time and money by quickly detecting variables in the manufacturing process and allowing corrections to be made in real time. In addition to measuring moisture, our moisture sensors can also measure and control: coating thickness, oil, resin content, protein, fat, sugar, seasonings, nicotine, plastic film thickness and many other constituents. We are unsurpassed in performance and accuracy for NIR moisture measurement technology for instant on-line, off-line and laboratory moisture instrumentation.
What Are The Advantages of Our Product?
Unaffected by product variants such as material size, height or color, MoistTech moisture sensors provide continuous, reliable readings. Our sensors are one time calibration, maintenance free with a non-drift optical design allowing line operators to perform immediate process modifications based upon real-time measurements. For more info on our Near-Infrared technology, see our "WHY NIR" info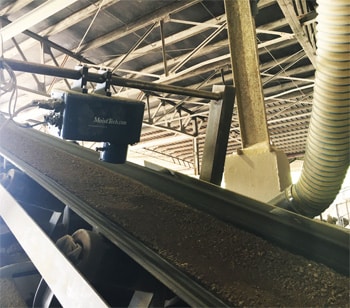 How Are The Sensors Designed?
MoistTech series of online moisture sensors for measurement are designed for full real time process control. Our online moisture sensors use exceptionally accurate NIR (near infrared) and RF (radio frequency) technologies for instant non-contact moisture analysis. MoistTech sensors and gauges are designed to allow users to optimize their process and dramatically improve product quality. The newly developed IR-3000 moisture sensors and software can be configured and calibrated for numerous components in virtually any application.
INCREASING EFFICIENCY CAN DECREASE HUMAN ERROR. AUTOMATE THE PROCESS WITH A MOISTURE MEASUREMENT SYSTEM
Avoid downtime with quick measurements, rely on unbeatable accuracy and enjoy versatility in installation placement with MoistTech's state-of-the-art moisture detection system. With extreme efficiency, low cost and high accuracy, a moisture control system can provide a multitude of benefits beyond product quality by controlling the moisture content.
Reducing front-end expenses and increasing quality and efficiency has always been a top priority for producers, highlighting the need for companies to thoroughly evaluate their current methods of reducing waste – wasted efforts, wasted energy and wasted product. Evaluating and implementing lean manufacturing principles assists in eliminating waste and improving overall plant production. With the implementation of moisture control systems, manufacturing plants can save a large amount of money in a short amount of time.
When considering the many challenges that plant operators are tasked with, moisture control plays a large role. Moisture content can affect product quality and equipment function, making it a crucial focus point in proactive avoidance of quality control issues
Start seeing the ROI in the FIRST 30 DAYS of use! With reduced waste, increased productivity, less down time and improved product lines, the utilization of a MoistTech system is essential to proper quality control. We are confident our system is the best fit for your application and better yet, we offer a 30 day performance guarantee to ensure success with our customers.
KEY BENEFITS YOU CAN IMMEDIATELY SEE:
Increased Productivity
Dryer Control Optimization
Oven or Dryer Efficiency Control
Higher Quality Products
Instant Data That Can be Linked to a PLC
Accurate and Repeatable Moisture Measurement Data
Plant Production Efficiency Monitoring
Decreased Human Errors
Immediate Line Adjustments in the Process
Low Cost – Immediate ROI
Reduce Downtime by Eliminating Manual Testing
Reduce Wasted Product
Maintenance Free Design
One Time Calibration – Pre Calibrated from Factory to Your Exact Product
Zero Drifting – No Yearly Adjustments Needed
Low Energy Costs
Where Would You Use Our Products?
Listed below you will find links to typical moisture sensor applications where MoistTech's products are ideally suited for accurate and precise moisture testing, measurement and control.
Don't see your specific application Listed? Call us today and we will be happy to discuss your details to see if we can match you with a MoistTech sensor! 941-727-1800
Contact Us Today to Assess Your Application: