50,000 Installations and Counting: MoistTech Corp. Provides the Ultimate Solution to Moisture Control
MoistTech Corp™, a Sarasota FL based company, has operated with the support of business for over 40 years, manufacturing
the world's most accurate near-infrared (NIR) industrial moisture measurement gauges and has installed over 50,000 gauges and counting to date! The state of the art technology has the ability to combine multiple constituents to adjust to specific needs including the measurement of moisture, fat/oil, coating thickness, hot melts and glues, allowing operating personnel to make immediate adjustments based on real-time measurements. Surpassing the competition, MoistTech utilizes top of the line technology advancements creating a gauge that can be used in harsh applications and environments where other gauges easily break down.
The MoistTech NIR technology outshines the competition with a ratio-based measurement with prime beam. This eliminates the sensitivity to distance, improves stability, improves accuracy and provides a no drift design. This unique design allows for extremely accurate measurements with far more sensitivity than that of any competing gauge, proving us the ability to measure very difficult applications where others cannot.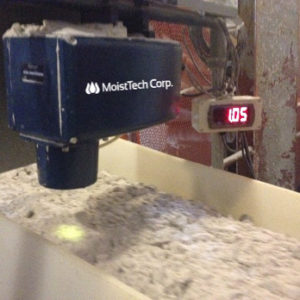 Ideal for chain and screw conveyors, the common the issues with moisture measurement and control occur with blending raw materials, during the combustion process and entering & exiting the dryer. The plant manager's ability to control the line immediately with adjustments is a huge improvement over old method of time-consuming weighing and drying, wasting valuable time. Quality control is vital on the manufacturing line and the ability to alter certain specifications results in better quality products. Most accuracy with the IR-3000 can be expected to be +/- 0.1% dependent upon the application and can be programmed to read many different materials for ease of use.
A non-contact 'online' moisture sensor with hundreds of measurements per second, providing real time accurate measurements can provide a maintenance free alternative to moisture measurement & control, freeing you from the old technology and proving an enhanced system of monitoring your product for accuracies.
941.727.1800
Don't Miss Our Last Show This Year:
Pack Expo Las Vegas 12/5-12/7 BOOTH 5426