Moisture Measurement & Control From Lab to Line
Near-Infrared Moisture Measurement Technology
MoistTech Provides Instant Process Optimization with Moisture Measurement & Control
MoistTech Corp.® represents the diamond standard in robust, reliable, and dependable near-infrared (NIR) moisture measurement and control technology. Manufacturing a range of on-line sensors & at-line instruments for moisture measurement and real-time process control for numerous applications, the technology also has the ability to monitor thickness, coat weight, oil, and fat/protein content along with other elements that absorb NIR light.
Consider what you spend – or lose – on wasted product, lack of efficiency, consistency of product, environmental costs and quality control. The MoistTech Corp. system solves many of the common problems found on the manufacturing line.
MoistTech understands the savings that come from accurate, controlled moisture in the manufacturing process. Our online moisture detection systems are rugged, accurate, and provide top of the line results. With the ability to measure and control moisture content in almost any material, our meters send out digital or analog signals to allow for software control of your manufacturing process. We can communicate from the sensor to your laptop, PC, or network through RS232 or Ethernet TCP/IP protocols.
Insensitive to material variations such as particle size, material height & color, MoistTech developed the IR-3000 series of online sensors for instant, non-contact measurement of many products and raw materials in the harshest manufacturing environments. Continually monitoring and controlling moisture levels allows operating personnel to confidently make immediate process adjustments based on real-time measurements.
The sensors require a one-time calibration and are manufactured with a non-drift optical design to provide continuous, reliable readings with zero maintenance. Production efficiency improvements due to accurate real-time measurements provide both energy savings and potential increased productivity with lower material losses. Our moisture detectors use state-of-the-art components allowing installation in the most extreme locations.
Common Installation Locations Include:
Belt, Screw, Drag & Enclosed Conveyors
Chutes, Cyclones & Bins
Before / After Dryer
Webs
Pipeline or Pneumatic Conveying
Fluid Bed Dryers
Storage Bins
Key Benefits to MoistTech Moisture Control:
Increased Productivity
Dryer Control Optimization & Efficiency
Higher Quality Product
Instant Data That Can be Linked to a PLC
Accurate and Repeatable Moisture Control Data
Plant Production Efficiency Monitoring
Immediate Line Adjustments in the Process
Low Cost – Immediate ROI
Reduce Downtime & Wasted Product
Maintenance Free
One Time Calibration
Zero Drift
Low Energy Costs & Less Product Waste
Avoid downtime with quick measurements, rely on unbeatable accuracy and enjoy versatility in installation placement with MoistTech's state-of-the-art moisture detection system. With extreme efficiency, low cost and high accuracy, a moisture control system can provide a multitude of benefits beyond product quality by controlling the moisture content.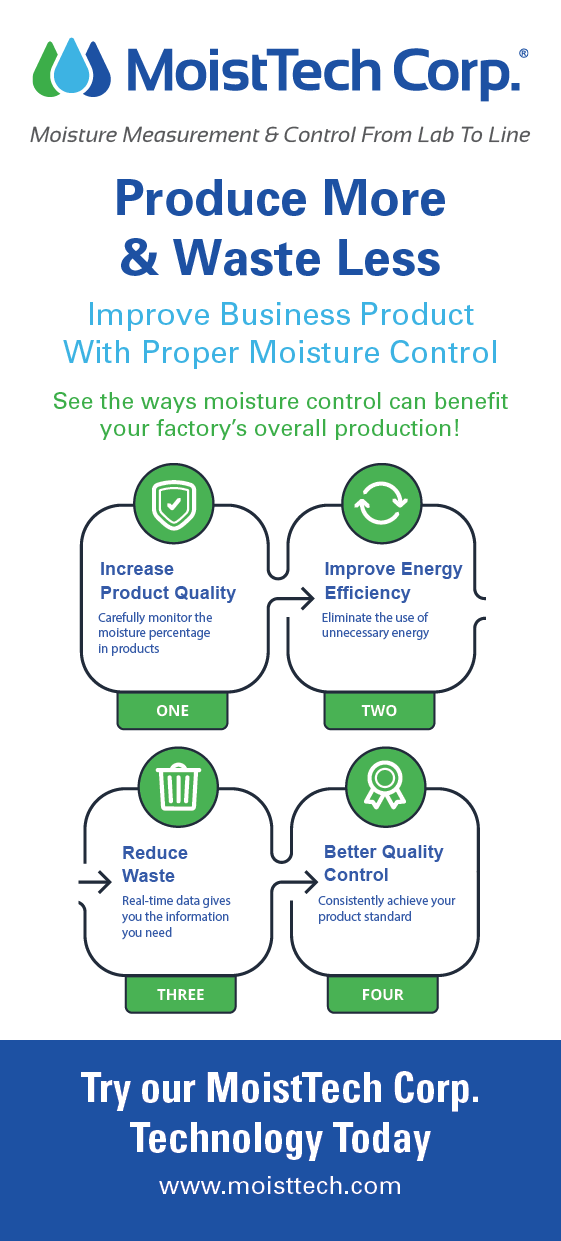 Start seeing the ROI in the FIRST 30 DAYS of use! With reduced waste, increased productivity, less down time and improved product lines, the utilization of a MoistTech system is essential to proper quality control. We are confident our system is the best fit for your application and better yet, we offer a 30 day performance guarantee to ensure success with our customers.
Featured Moisture Sensor Applications

Mineral & Bulk Materials
Testing moisture content throughout the manufacturing process provides manufacturers cost savings in energy and fuel costs and less product waste. With continuous NIR online moisture testing, manufacturers can monitor moisture levels in real time and precisely optimize and control their dryers.

Human/Snack Foods
 The amount of water a product contains can affects the taste, appearance, consistency, stability as well as the shelf life. Testing the moisture levels of the final product ensures manufactures that they have the highest quality product and consistency.
Animal Foods
Monitoring the moisture in the raw materials, controlling the mixing/blending process and moisture of the feed not only ensures the final product with consistent quality, but will enable substantial savings to be achieved in the production process.

Converting
MoistTech's state-of-the-art sensor is ideally suited to measure the moisture levels as well as water and solvent based coatings and coat weight during the paper/converting process, improving manufactures product quality and increased productivity within substantial cost savings.

Wood Products
MoistTech offers the most advanced wood moisture sensors for the non-contact measurement of moisture in forest products such as fiber, sawdust, hog fuel, wood flakes, and wood particles allowing wood product manufacturers to adjust moisture levels on real time information lowering raw material and fuel costs, higher yields, and more uniform products.
Textile/Nonwoven
Moisture content varies widely in raw materials, and at different points in the production process, so non-contact moisture measurement is essential for achieving an outstanding final product. By ensuring that textiles are neither too wet nor too dry at key points in the production process, you'll get a final product with consistent quality as well as a cost savings from reduced waste and downtime.
BioEnergy
What's worse than a wasted effort? Economical losses and decreased productivity. Excess moisture in products such as hog fuel, waste fiber, wood chips, pellets, saw dust, shavings, and forest waste can ruin products. MoistTech's on-line and at-line monitoring solutions can provide the most efficient way to measure moisture content.

Tobacco
Dryer control is the most sensitive area of the tobacco process. Thousands of kilos per hour are processed where volume, temperature and input moisture vary. The MoistTech model 828 tobacco moisture sensor provides the user with the ability to monitor and control this process to within tenths of a percent.
Informational MoistTech Videos on YouTube
MoistTech Ranks #1 Among Customers
MoistTech Corp. is a global leader for near-infrared moisture measurement sensors and equipment supply for just about every big and small industry. At MoistTech, customer service and product performance are at the heart of our corporate culture. We are proud of our commitment to providing optimal customer solutions for a variety of industries.
"The addition of the MoistTech IR3000s have provided me with the ability to control our process by instantly increasing or decreasing the material flow into the dryer. This variation of our material flow is based on the moisture content and belt scales to provide a dry weight. Prior to the MoistTech technology proved to be a guessing game and time consuming OWL laboratory tests post dryer"
"Based on your [customer service] interactions with me over the demo period, the products ease of use and user manual clarity, self-repair capability and matching competing warranties … in the end you were not the cheapest but the other factors listed ruled the day"
"The system is working very well with an efficiency improvement of 400-600 % improvement in moisture control. We are also looking at promoting this to a best practice suitable for our other plants and shingle lines."